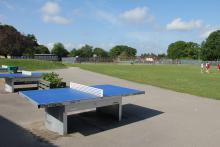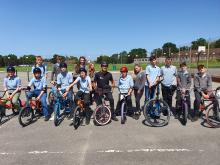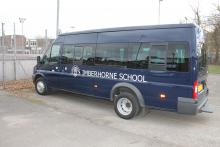 Imberlink -  School Fund
We are extremely grateful to each family who donates the suggested £36 to our School Fund via ParentPay. Please email finance [at] imberhorne [dot] co [dot] uk if you would prefer to pay in monthly installments via a standing order. Tax-payers may kindly gift aid their contribution and enable us to claim extra from HM Revenue & Customs. The use of these funds is overseen by the Governors Finance Committee using the following criteria: It should enhance the learning experience of students at Imberhorne, assist in the provision of things not normally provided by the Local Education Authority and it should be of use to the majority of the school student community. Over the last ten years the fund has provided items that have made a real difference to our students. Examples include:
  Poetry Workshops  * Picnic Benches  *  Wheelbarrows, tools and plants for the gardening club * Netball, football and basketball team kits *  PA system to both halls * Instruments for music including Djembe drums, electric guitars and Nord keyboard * Sublimation system and cake printer for technology  *  Outdoor table tennis tables in each key stage for use at break and lunch  *  School minibus *  Handheld GPS for Duke of Edinburgh students * Laser Cutter for Technology * Counselling Service *  MAC books for music * BBC Micros for Computing * Lighting & Lighting Desk for performances * Sound Level Meters for Geography
We would like to thank you for playing your role in providing these opportunities and helping our students.
How you can help Imberhorne:
Give as You Live and Amazon Smile
Want to help us raise even more for FREE? Well, now you can just by shopping via Give as you Live Online or Amazon Smile!
Give as you Live supports online shopping at over 4,400 top stores including John Lewis & Partners, Expedia and Marks & Spencer via Give as you Live Online. They turn a percentage of your spend into free funds for us! Simply sign up, search for the retailer and start shopping. Using the app or the desktop reminder tool is so simple, why not get started today? Please use this link to take you straight to the sign up page.
Amazon Smile offers you online shopping at Amazon who will in turn donate to Imberlink, at no cost to you. Please use this link to take you the relevant page.
Imber 200
Imber 200 is a source of funding for the school that benefits all the members of our school community. It is operated by the ImberExtra sub-committee of the Imberhorne School Governing Body. The more members that join Imber 200, the better our fund raising potential for the school community. We actively encourage and welcome all members of our school community and their families and friends to join Imber 200, there is no need to have students currently on roll. It is a game of chance that will result in financial gain for Imberhorne School and may result in financial gain for the three lucky number holders each month.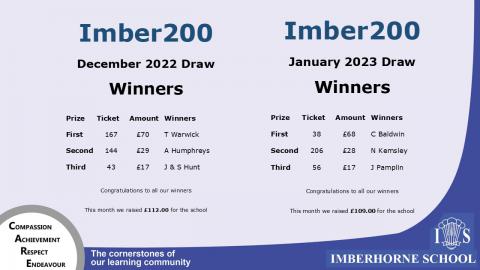 Operating Rules
Applicants should request a Standing Order mandate from our Business Manager finance [at] imberhorne [dot] co [dot] uk and complete the Membership Application Form (link below). This may either be emailed to us or handed in to either reception.
If your details change at any point after joining, please notify the Imber 200 operating team via finance [at] imberhorne [dot] co [dot] uk
Every £2 pledge buys you one membership number which will be allocated and entered in the draw each month. There is no limit to the numbers that you can purchase. Individuals or families may hold more than one membership number, but all participants must be over 18 years old. Entry into the draw is delayed by one calendar month, in lieu. This allows for your forms to to be processed at the commencement of your membership of Imber 200, and for one month's entry into the draw after we receive notice in writing that you wish to cease membership. The draw will take place once a month and shall be run in accordance with Imber200's Mid Sussex District Council (MSDC) licence. The prize money available each month will be 51% of the membership money taken that month, hereafter to be known as "the pot". The prize money from "the pot" will be allocated proportionately as follows:
1st prize (60% of the pot), 2nd prize (25% of the pot), 3rd prize (15% of the pot)
Prizes will be rounded-up to the nearest fifty pence. If you have won you will be informed by telephone and a cheque will be posted to the address that you nominated on Imber 200 form  (Membership Details address).  Imber200 is registered with the Charity Commission, registration number 271227 (Imberlink). The draw shall require the participation of a minimum of 75 members and Imber200 shall produce accounts annually which shall be audited by the school's auditors at the end of each financial year.
We thank you for supporting Imberhorne School and good luck!